SunDown Wayfarer Blue Blocking Glasses - Crystal

Blocks 100% Of Blue Light

Improve Sleep

Lower Stress & Anxiety

Lighter Amber Lens
SunDown Blue Light Blocking Glasses block 100% of blue light and are designed for evening use to increase melatonin levels, lower stress levels, and improve sleep quality... read more
Our amber lens is made in an optical lab with the highest visual acuity. This is the ideal option for providing greater colour perception over our red lens, whilst still providing adequate blue light protection.

Fast Shipping

30 Night Trial & Easy Returns
Our scientifically-designed-and-manufactured blue light blocking glasses not only all block blue light but make you look good while doing it!
The SunDown Amber Lens has been specifically designed and proven to block 100% of blue from 400-500nm. Using the SunDown Amber lenses provides the perfect balance of a lighter amber tint allowing more visual colour perception, while still remaining effective at blocking 100% of harmful blue light.
These glasses are perfect for use in the early evening when blue light protection is required but greater colour perception is preferred.
For Maximum Night-time protection, use our NightFall Red Lens range; These Blue and Green Light Blocking Glasses block 100% of blue AND green light up to 550nm.
SunDown Amber Lens: 100% of blue light harmful blue light is blocked (400nm - 500nm)
Lighter Amber tint allows more color perception at night
Specifically designed to help you sleep by blocking harmful blue light that lowers melatonin levels
Use after sunset when you are exposed to artificial light, to enjoy improved quality of sleep
Premium acetate frames made with stainless steel spring hinges
Premium carry case and lens cloth included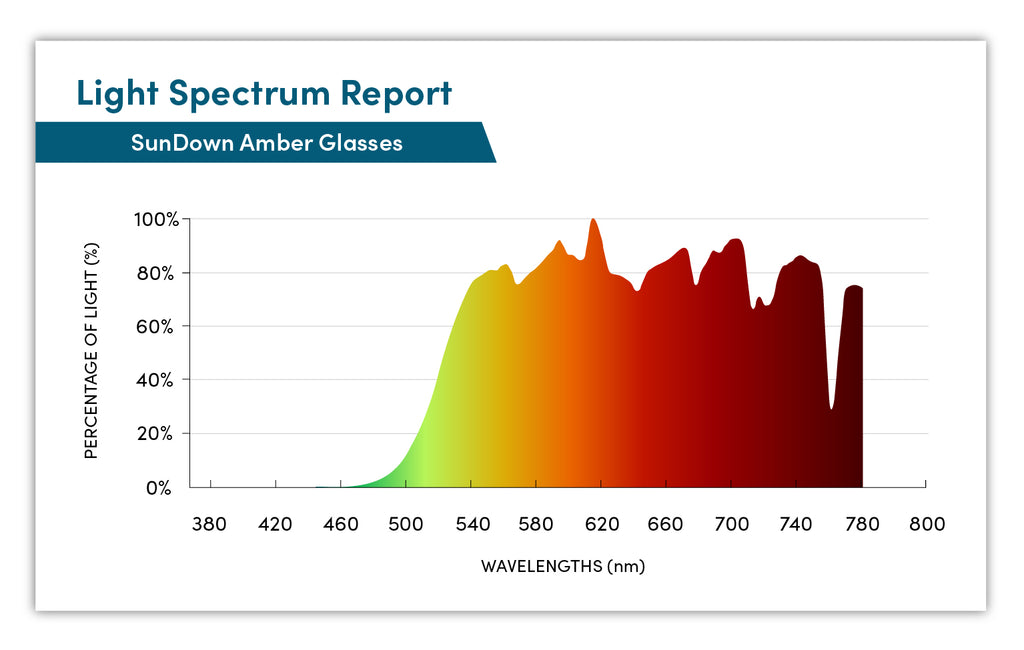 Great quality.

Great quality glasses. You can tell they block the blue light by looking at the reflection coming from the front side. Another brand I have does not reflect blue light!!

Awesome!

They are awesome and don't hurt my nose!

So comfortable game changer honestly makes a Massive difference we all wear them at home and we often struggle to sleep with these we instantly go to sleep

There also another pair we bought they are perfectt for daytime

Great and comfortable

Love the quality, certainly makes a difference to my sleep 😴, wake up feeling refreshed 😊

Helpful when you have to use a device at night

I've been using these for all work on digital devices after sunset (which I can't avoid, as much as I'd like to), and they definitely make a difference to my ability to get off to sleep when I finish work.

Diletta V.

Verified Buyer

Sooo good

The glasses are superb! My husband bought them as well after me and he is having good nights sleep !! Thanks very much for your glasses!!!!!

Fantastic product

Loving my new blue blocking glasses that are comfortable and have a beautiful lens for creating a comfortable light environment.

Brandie F.

Verified Buyer

Love these!

The glasses are comfortable. I even wear them when I sing at night gigs and they look fashionable as well as me being the only one knowing they are functional.

Kathleen P.

Verified Buyer

Hands down BEST blue blockers on the market!

Absolutely obsessed with these blue blocker glasses! Not only do they perform better than any other brand I've tried in the past, but they're very stylish. My husband has been snagging them more often, so looks like I'm getting him his own pair now.

Wonderful glasses!

Great quality and they fit very nicely.

My sleep patern has improved!
Reviews Loaded
Reviews Added