SunDown Aviator Blue Blocking Glasses

Blocks 100% Of Blue Light

Improve Sleep

Lower Stress & Anxiety

Lighter Amber Lens
SunDown Blue Light Blocking Glasses block 100% of blue light and are designed for evening use to increase melatonin levels, lower stress levels, and improve sleep quality... read more
Our amber lens is made in an optical lab with the highest visual acuity. This is the ideal option for providing greater colour perception over our red lens, whilst still providing adequate blue light protection.

Fast Shipping

30 Night Trial & Easy Returns
Our scientifically-designed-and-manufactured blue light blocking glasses not only all block blue light but make you look good while doing it!
The SunDown Amber Lens has been specifically designed and proven to block 100% of blue from 400-500nm. Using the SunDown Amber lenses provides the perfect balance of a lighter amber tint allowing more visual colour perception, while still remaining effective at blocking 100% of harmful blue light.
These glasses are perfect for use in the early evening when blue light protection is required but greater colour perception is preferred.
For Maximum Night-time protection, use our NightFall Red Lens range; These Blue and Green Light Blocking Glasses block 100% of blue AND green light up to 550nm.
SunDown Amber Lens: 100% of blue light harmful blue light is blocked (400nm - 500nm)
Lighter Amber tint allows more color perception at night
Specifically designed to help you sleep by blocking harmful blue light that lowers melatonin levels
Use after sunset when you are exposed to artificial light, to enjoy improved quality of sleep
Premium acetate frames made with stainless steel spring hinges
Premium carry case and lens cloth included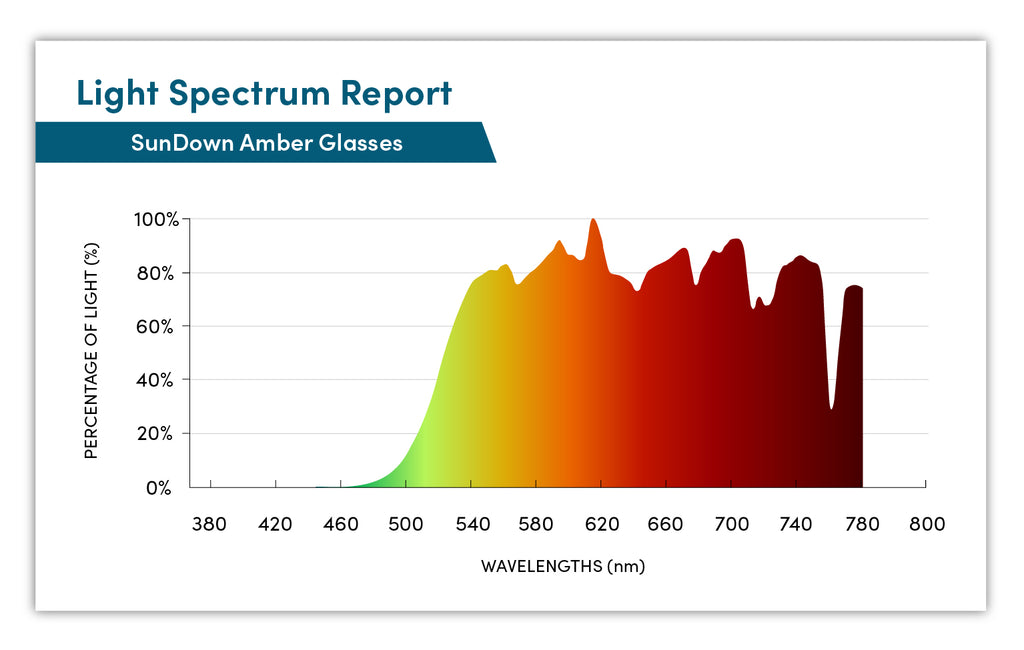 Brain W G.

Verified Buyer

BrianW Godfrey

I use these when working on the computer together with your full spectrum light bulb

Teague M.

Verified Buyer

Decent investment

Well made and benefits my sleep.

Anneliese H.

Verified Buyer

Night time blue light blockers

I love my orange blue light blockers, my sleep has improved & I know longer get eye strain and headaches. The orange tone also improves mood. I'm going to get a paid for my 5 year old as his always stealing mine.

Will purchase the yellow day shade night very happy costumer!

Rhys P.

Verified Buyer

Very Good

Very good, I'm on a computer for majority of everyday and wearing these certainly makes my eyes less strained.

Raewyn M.

Verified Buyer

Exchanged for Amber tint

I found the amber tint was much better for me and sleep is much better as a result of wearing these. Being able to exchange them was excellent and the service was brilliant. Thank you.
Reviews Loaded
Reviews Added