SunDown Billie Blue Blocking Glasses-Pearl Grey

Blocks 100% Of Blue Light

Improve Sleep

Lower Stress & Anxiety

Lighter Amber Lens
SunDown Blue Light Blocking Glasses block 100% of blue light and are designed for evening use to increase melatonin levels, lower stress levels, and improve sleep quality... read more
Our amber lens is made in an optical lab with the highest visual acuity. This is the ideal option for providing greater colour perception over our red lens, whilst still providing adequate blue light protection.

Fast Shipping

30 Night Trial & Easy Returns
Our scientifically-designed-and-manufactured blue light blocking glasses not only all block blue light but make you look good while doing it!
The SunDown Amber Lens has been specifically designed and proven to block 100% of blue from 400-500nm. Using the SunDown Amber lenses provides the perfect balance of a lighter amber tint allowing more visual colour perception, while still remaining effective at blocking 100% of harmful blue light.
These glasses are perfect for use in the early evening when blue light protection is required but greater colour perception is preferred.
For Maximum Night-time protection, use our NightFall Red Lens range; These Blue and Green Light Blocking Glasses block 100% of blue AND green light up to 550nm.
SunDown Amber Lens: 100% of blue light harmful blue light is blocked (400nm - 500nm)
Lighter Amber tint allows more color perception at night
Specifically designed to help you sleep by blocking harmful blue light that lowers melatonin levels
Use after sunset when you are exposed to artificial light, to enjoy improved quality of sleep
Premium acetate frames made with stainless steel spring hinges
Premium carry case and lens cloth included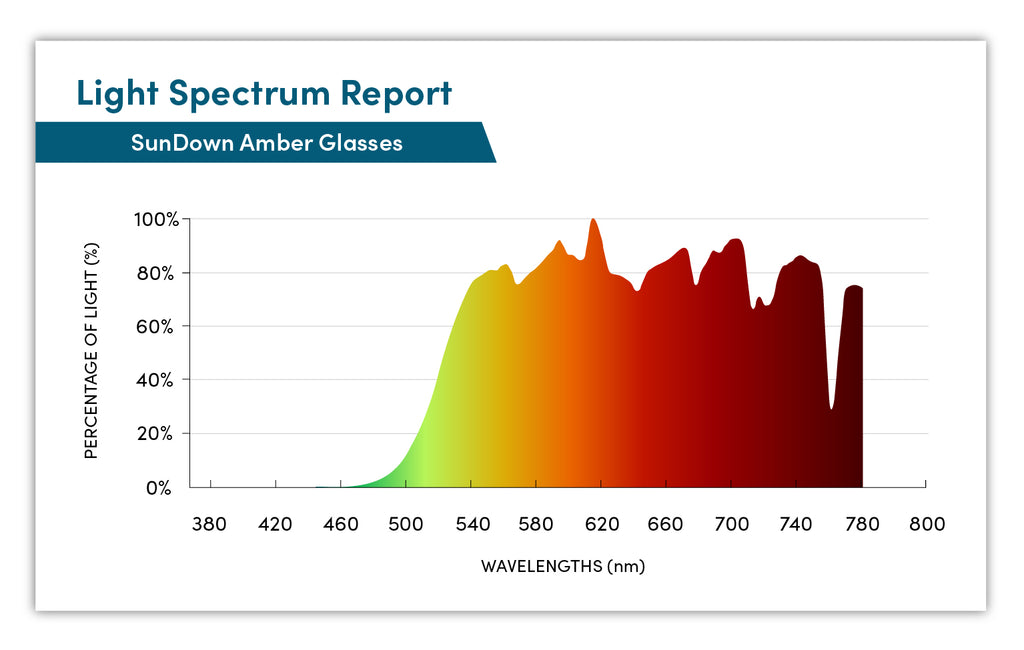 Love them

Glasses look & feel great and my sleep improves dramatically when I wear them 2 hrs before bedtime. Highly recommend!

Katrina L.

Verified Buyer

Love these glasses

Fantastic blue blockers, I wouldn't be without them now!

Carolina C.

Verified Buyer

Just brilliant, using everyday :)

Just brilliant, using everyday :)

Christine B.

Verified Buyer

Perfect for nighttime

These are my go-to after sunset! Immediate sleep improvement, highly recommend!

Amazing!

I love these so much. I used to get headaches and eye strain on a regular basis but since wearing these I haven't had either!!

So Comfortable to wear

These are the most comfortable glasses I've had. I can easily wear them from after dinner to bed time. Easily falling asleep when I do lie down.

The jury's still out.

I bought these because I have chronic insomnia. So far, they haven't made an impact on my ability to get to sleep. But they're sturdy frames, & the box keeps them protected.

Diletta V.

Verified Buyer

Amazing

Never slept so well ! Since I wear the glasses at night, I get to sleep deep, I can say it's absolutely worth it to buy! I had difficulty to sleep because of my job and since I wear these glasses I am well rested in the morning! It's a dream!

Thanks so much!!

Blocks harmful blue light

Comfortable fit, color contrast is not too dark so you can still read and look at your phone with it on. I'm happy with this purchase.

Sleep like a babe

Great for the evening and for a bit of TV before bed.
Reviews Loaded
Reviews Added