SunDown Taylor Blue Blocking Glasses - Pearl Grey

Blocks 100% Of Blue Light

Improve Sleep

Lower Stress & Anxiety

Lighter Amber Lens
SunDown Blue Light Blocking Glasses block 100% of blue light and are designed for evening use to increase melatonin levels, lower stress levels, and improve sleep quality... read more
Our amber lens is made in an optical lab with the highest visual acuity. This is the ideal option for providing greater colour perception over our red lens, whilst still providing adequate blue light protection.

Fast Shipping

30 Night Trial & Easy Returns
Our scientifically-designed-and-manufactured blue light blocking glasses not only all block blue light but make you look good while doing it!
The SunDown Amber Lens has been specifically designed and proven to block 100% of blue from 400-500nm. Using the SunDown Amber lenses provides the perfect balance of a lighter amber tint allowing more visual colour perception, while still remaining effective at blocking 100% of harmful blue light.
These glasses are perfect for use in the early evening when blue light protection is required but greater colour perception is preferred.
For Maximum Night-time protection, use our NightFall Red Lens range; These Blue and Green Light Blocking Glasses block 100% of blue AND green light up to 550nm.
SunDown Amber Lens: 100% of blue light harmful blue light is blocked (400nm - 500nm)
Lighter Amber tint allows more color perception at night
Specifically designed to help you sleep by blocking harmful blue light that lowers melatonin levels
Use after sunset when you are exposed to artificial light, to enjoy improved quality of sleep
Premium acetate frames made with stainless steel spring hinges
Premium carry case and lens cloth included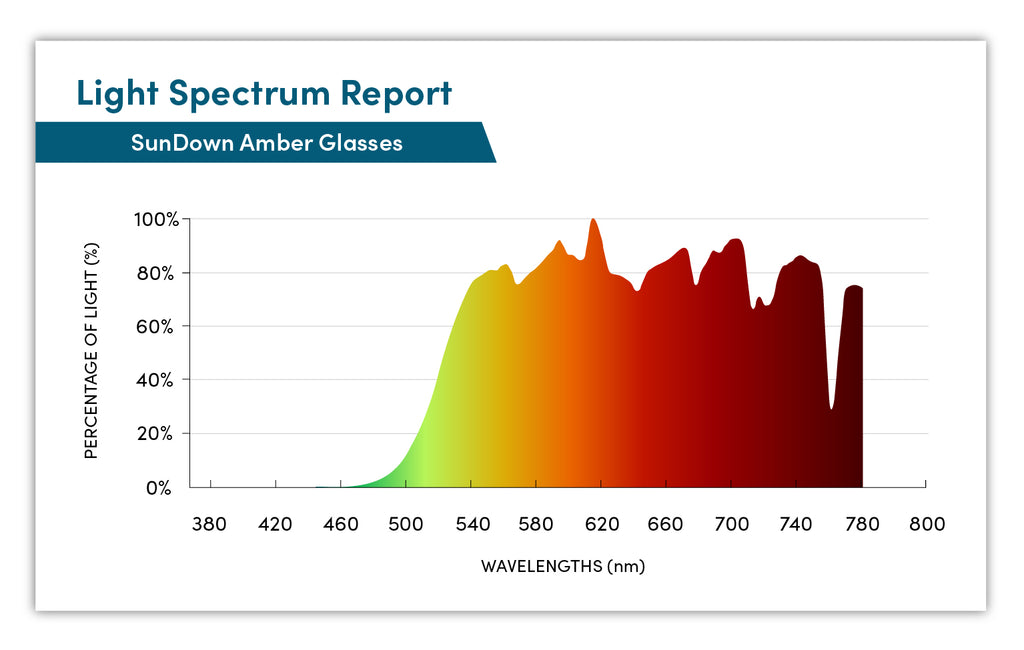 Sundown Tortoise glasses

Happy with the quality and design. Fits nicely over my prescription glasses which has come in handy.

Real blockers

Fabulous when watching tv at night before bed, amazing how the blue & green light is blocked. Bit difficult to use my phone whilst wearing , cant see phone clearly maybe the amber ones will be better for this, Other than that my eyes arent as strained, which is what I was hoping for.

I can do a bit of computer work or video watching without worrying about blue light!

I really like these glasses. I originally bought the NightTime, but they were too extreme for my needs. I sleep super well already, so I just needed evening glasses to wear in doors and especially if I was going to be staring at my computer after sunset. I needed a bit of colour perception (more than the NightTime full blocking glasses) too, and the SunDown are great for this. As we're heading into Summer here in Australia, even more reason to not need the NightTime just yet. Maybe winter time, with shorter days, I might get those too later! I now have my DayMax and SunDown, and my circadian health is so much better. I feel the difference tremendously: mood, appetite and energy and no more sore eyes! The style is also quite cool and they are very very light to wear.

BRILLIANT!

My best friend has no lamps and always has the bright lights on all the time, i can never sleep when i stay at their house...now, these glasses are a game changer, Im happy blocking out the blue. i love them!!

Love them

My first pair of blue light blockers and I really love them. I can still watch tv and see quite well with them on.

jennifer a.

Verified Buyer

No more watery eye

Excellent. Hard to believe actually. For years I have suffered a watery itch eye. I now wake up with no issues. I wear the glasses as soon as sin goes down. My eyes feel less strained. So far very pleased.

Amazingly light and stylish!

I love these! Put them straight on after sunset and they look so good I wear them out!

wow! Amazing

These glasses WORK! I'm ready for bed and ready to go to sleep so much easier and faster with these glasses.

Matthew G.

Verified Buyer

Reading Prescription

Really good glasses - reading lenses perfect for night time reading in bed!

The customer service checked in with me before dispatching which was nice.

I wear these every evening :-)

They're good.

I like the case they come in.
Reviews Loaded
Reviews Added