Twilight Motion Red Night Light

Rechargeable Battery

Motion Activated

Magnetic Wall Attachment

100% Blue & Green Light Free
The Twilight Motion Night Light is the optimal night-time light source that is 100% blue AND green light free, has zero flicker, and is low EMF.

Featuring integrated rechargeable battery for up to 7 hours run time, dawn to dusk motion sensor, and magnetic wall attachment.

Fast Shipping

30 Night Trial & Easy Returns
Red Light Motion-Activated Night Light 
The Twilight motion-activated night light is the perfect night light that emits no sleep disrupting blue or green light and provides a gentle red light to guide you at night. 
The Twilight Motion Night Light Bulb is 100% blue and green light free, has zero flicker, and is low EMF.
The Twilight Motion Light has a three position switch.  In the "ON" position, it continuously emits a gentle pure red light.  In the "OFF" position, the unit is off.  And in the "AUTO" position, the motion sensor will turn on the light in darkness when one passes within 4m of the light and within a 120 degree area.  
Stick it on, hang it up, stand it up, set it down 
The motion night light comes with a 3M magnetic attached back to stick to the wall, and a hanging attachment to hang on the wall, or it can be simply placed down on the floor.
This is the ideal amber motion night light for your children's rooms, bathrooms, hallways, baby's nurseries, or simply anywhere you may need to walk to during the night.
Colour temperature: 1200k
Built-In Battery: 3.7V 800 mAh rechargeable Li-ion battery
Flicker Free Technology
Peak Wavelength: 630nm
Brightness: 80 Lumens
Wavelengths blocked – 100% between 380-570nm
Life: 30,000 Hours
Power consumption (watts): 2w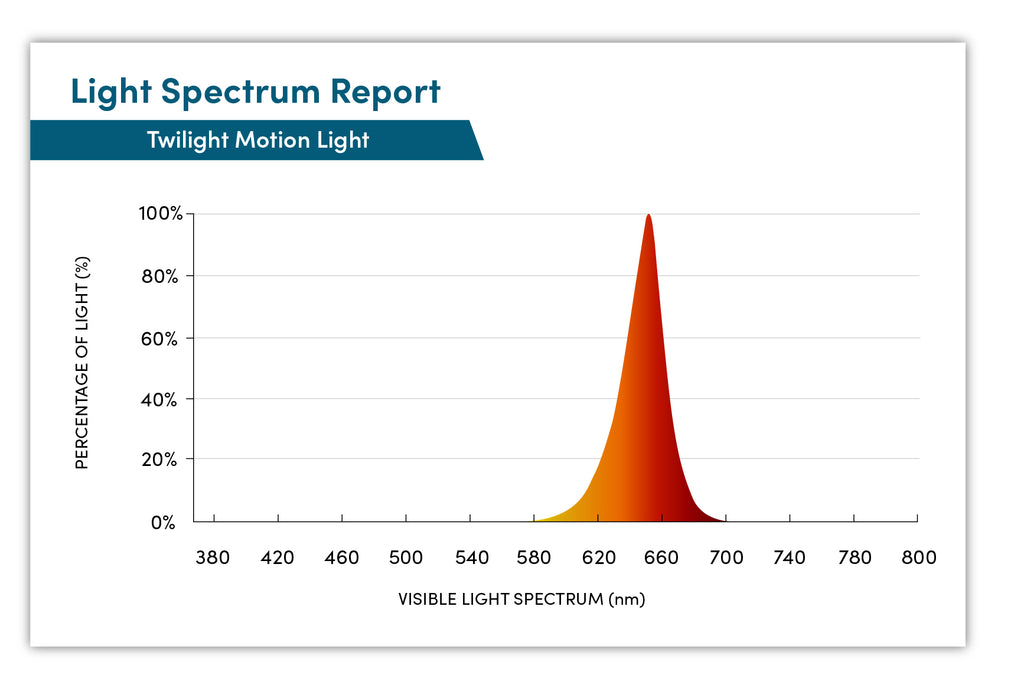 Racheal S.

Verified Buyer

Twilight Motion Red Night

Love this light! It's so handy!

Maneeka Le P.

Verified Buyer

good investment

My second purchase re motion light, I have amber light in bathroom and red toilet, both are very responsive to motion, even from a few metres away.

Both lights are soothing to the eyes at night, and I feel bring a sense of calm when on .

Night Light Perfection

Love this little light for those midnight trips to the bathroom or to minimise partner disturbance when hopping into bed late. It has a great motion sensor and provides just the right light to move around safely without the starkness of a regular light.

Toilet light

Love this little light. It's perfect for the bathroom at night. Motion sensor is great.

Perfect for to top of our stairs

Any of us leaving our bedroom at night activates the Twilight Motion Red Night Light and provides enough light to walk across the landing safely. The light stays on long enough to get back into bed and then goes off. The old style night light we had stayed on all night so I used to switch it off as it kept me awake. I love this Twilight Motion Red Night Light from Block Blue Light.

Great product - aids sleep

A great product to aid sleep. I have two of these placed in the bedroom or on the landing. I haven't fixed them as I sometimes change the angle that they are directed to (eg. if I had a visitor I would angle for their benefit). I also take them away with me as they are invaluable for getting around at night without waking too much. Very lightweight for packing for travel. Recommend to anyone interested in the health benefits of good sleep.

Twilight Motion Red Night light

As a bathroom motion night light it gives a lovely warm glow as well as adequate light for those late night visits!

Great nighttime solution

We bought these for each of our small bathrooms and have come in very handy at night without disturbing others' circadian rhythms, or our own.

Red night light

It is okay but would be better if it stayed on longer. The adhesive backing tape failed on the first night so l needed to come up with an alternative solution for fixing to the wall.

Love this!

This little light is perfect for our bathroom at night, for when I am getting ready for bed or am going to the bathroom in the middle of the night. The sensor works perfectly, detecting when there is movement in the room and turning on automatically. And sometimes I carry it around with me into my closet, etc. while I'm getting ready for bed, just so I don't have to use any other (regular) lights, so my system keeps producing melatonin. It goes for quite a long time before it needs charged. I can't recommend this enough, it was well worth the money and I'll be buying another for the other bathrooms in the house.
Reviews Loaded
Reviews Added