Twilight Red Light Beacon Light

100% Blue & Green Light Free

Rechargeable Battery

2 Brightness Settings

Travel Friendly & Portable
The Twilight Beacon Light is a 100% blue and green light-free light that provides sunset red light illumination for nighttime use. With its two brightness settings and USB rechargeable design, it's the perfect solution for anyone looking to optimise their sleep routine.
read more

Lightweight and portable, it's perfect for travel, camping, or just moving around your home. Whether you're winding down for bed or need a little extra light at night, the Twilight Red Beacon Light is the perfect solution for you.

Fast Shipping

30 Night Trial & Easy Returns
Red Light Blue Blocking Beacon Light
Your ultimate solution for optimal sleep and night-time illumination. Our red light beacon light is 100% blue and green light free, providing you with a soothing red glow that won't disrupt your circadian rhythm. Whether you're winding down for bed or need a little extra light at night, the Twilight Red Light Beacon Light is the perfect solution for you.
Here are 5 reasons why the Twilight Red Light Beacon Light is a must-have for your sleep routine:
100% Blue and Green Light Free: Unlike traditional lighting sources, our beacon light emits no blue or green light wavelengths that can disrupt your sleep patterns.
2 Brightness Settings: The Twilight Red Light Beacon Light features two brightness settings, allowing you to customize the intensity of your nighttime lighting to your liking.
USB Rechargeable: With its USB rechargeable design, our beacon light is both convenient and eco-friendly. Simply plug it in and you're good to go!
Lightweight and Portable: Our beacon light is compact and lightweight, making it easy to take with you wherever you go. It's perfect for travel, camping, or just moving around your home.
Travel-Friendly: Our beacon light's compact size and USB rechargeable design make it the perfect travel companion. Whether you're on the road or in the air, the Twilight Red Light Beacon Light has got you covered.
The Twilight Red Light Beacon Light for anyone looking to optimise their sleep routine. Whether you're a night owl or an early bird, our beacon light provides a soothing, blue light-free glow that won't interfere with your natural sleep patterns. To use, simply turn on the light and adjust the brightness to your liking. It's that easy!
The Twilight Red Light Beacon Light is the perfect solution for anyone looking to optimise their sleep routine and enjoy a peaceful, blue light-free night's sleep. With its convenient USB rechargeable design, lightweight and portable construction, and customizable brightness settings, our beacon light is the perfect addition to your nighttime routine. Take the first step towards a more restful night's sleep!
Brightness: 85-100lm/w
Rechargeable 800mAh Lithium Battery
Up to 16 hours run time (on lowest brightness setting)
Colour temperature: 1200K
Power: 0.5W
Size: 60*78*80mm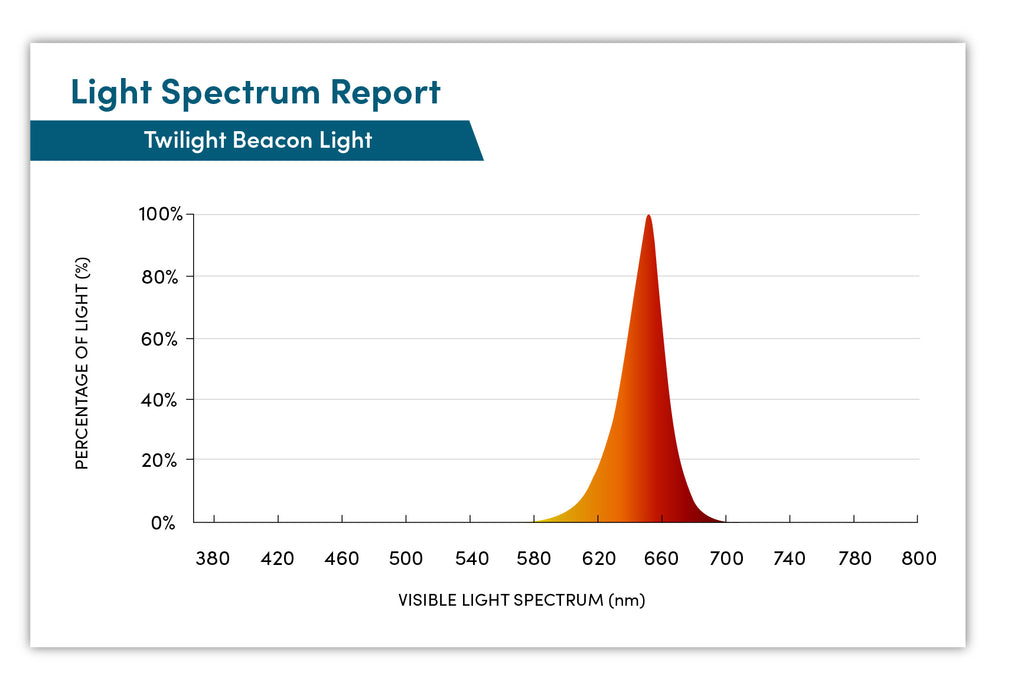 Beacon Light

Love this little light! I bought 4, 1 for myself & the other 3 I've wrapped for Christmas gifts for my 3 adult kids.

The light is so cute & the perfect beside night light. 5 stars!!!! I love it. They will too. Love how it's rechargeable & doesn't need batteries. Do ya self & the people you love a favour & buy some.

HECTOR DIAZ DAS N.

Verified Buyer

Game changer

I love how practical this device is. I take it with me to read on the sofa and then again to go to bed. I notice how it does not impact in the process of melatonin generation.

I think I will buy more so that I dont have to take it with me from one room to another.

Best lil Investment !

So handy - I take this with me travelling to create my own light. Love it. It's so cute too! Great value. Battery seems to last a good time!

EB

Emmanouil B.

Verified Buyer

Excellent quality

I wanted a small portable light that I can carry during the evening/night hours while preparing for sleep, and this light was the perfect choice. The quality is excellent. However the charging technology needs to be updated, because it charges with micro usb and someone needs to maintain an old charger just for this lamp.

Brilliant

I use this in bed at night to look at the clock. No looking for switches or buttons. Just push on the top to turn off or on. Insomnia for me has greatly improved since using this business's products. Easily charged. I've found this business easy to buy from and they are very knowledgeable about light.

Red Light

I'm very much enjoying my Twilight Red Light Beacon Light. I have the yellow version as well. However I find the red light way more soothing. I will likely buy more red light versions in the future!

Amber or red?

If you're wondering whether to get this red light or the amber light this review is for you!

The amber one has a more soft golden hue, so I find it nicer aesthetically for evening use. However if you want a light that gives you maximum blue-light blocking then the red beacon light works the best. Let's say you want to fall asleep while reading - get the red light for that - it makes visuals sort of black and red and cuts out the colour. The glow is solely red, it has no yellow in it. The amber light is more fireplacey and you can still see colours. Hope that helps you choose! Personally, I've got 3 amber lights and 1 red one and they all have their place in my routine.

Bloody excellent

Awesome little light. I wasn't intending to buy one, this was on a bit of a whim. I have been using my booklight and red light torch when I go camping in the tent up until I got this little beauty. I found it was so hard to use the aforementioned lights in a tent situation for general hands free lighting when getting dressed/sorting out the swag etc, because they either keep swinging (if you tie them up to the little hanging material inside the tent) or they don't stay put if you rest them against something. This beacon light is PERFECT - it is squat and fat so doesn't fall over and emits light in a 360 degree radius consistently so you can see what you're doing. It's completely portable and easy to recharge in the car USB port or by an external battery pack. It gives plenty of light as a bedside night light, though not quite enough to read by in my opinion, but plenty for general getting yourself set up for the evening in a swag or bed. They're easy to turn on in the dark - another great design feature - as you're not fumbling around knocking things over trying to find a tiny button. You feel the distinct square shape of the beacon and give one press down and PING it's on. Easy. Great product. The only downer is that it stays on when you are charging it, it makes it a bit odd if you're recharging in a work vehicle full of colleagues. Should hide it under something. Seems a bit wasteful to the globe I would think.

Soothing!

Very happy with my purchases have already recommended to family ! I'm using it as a night light for babies bed time and middle of the night nursing and it definitely helps create a soothing environment! I love that it is so small and compact! This light paired with a blackout blind is absolute sleep heaven and that's coming from a former insomniac ! I only wish the battery life lasted a bit longer and the clicking to turn on and off was a tad bit quieter or used a soft touch function but all in all a fantastic product !

Perfect beacon

I live the new beacon for nightime use. It is gentler than a globe and the bouncy on, dimmer and off is perfect.
Reviews Loaded
Reviews Added