SunDown FITOVER Blue Blocking Glasses

Blocks 100% Of Blue Light

Improve Sleep

Lower Stress & Anxiety

Lighter Amber Lens
SunDown Blue Light Blocking Glasses block 100% of blue light and are designed for evening use to increase melatonin levels, lower stress levels, and improve sleep quality... read more
Our amber lens is made in an optical lab with the highest visual acuity. This is the ideal option for providing greater colour perception over our red lens, whilst still providing adequate blue light protection.

Fast Shipping

30 Night Trial & Easy Returns
Our scientifically-designed-and-manufactured blue light blocking glasses not only all block blue light but make you look good while doing it!
The SunDown Amber Lens has been specifically designed and proven to block 100% of blue from 400-500nm. Using the SunDown Amber lenses provides the perfect balance of a lighter amber tint allowing more visual colour perception, while still remaining effective at blocking 100% of harmful blue light.
These glasses are perfect for use in the early evening when blue light protection is required but greater colour perception is preferred.
For Maximum Night-time protection, use our NightFall Red Lens range; These Blue and Green Light Blocking Glasses block 100% of blue AND green light up to 550nm.
SunDown Amber Lens: 100% of blue light harmful blue light is blocked (400nm - 500nm)
Lighter Amber tint allows more color perception at night
Specifically designed to help you sleep by blocking harmful blue light that lowers melatonin levels
Use after sunset when you are exposed to artificial light, to enjoy improved quality of sleep
Premium acetate frames made with stainless steel spring hinges
Premium carry case and lens cloth included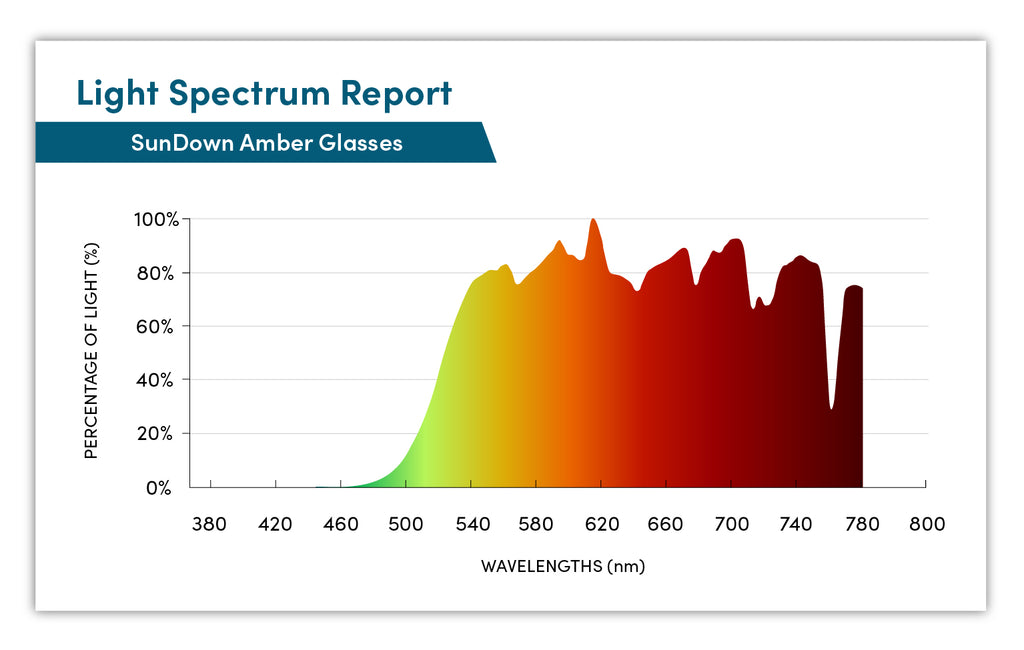 Love them!

They fit perfectly over my prescription glasses. They are light and comfortable to wear. They certainly make my eyes feel much more relaxed when I read at night. Very impressed!

Evening glasses

They were a success fitting over my own prescription glasses. Using them when under bright kitchen lights

Pernille T.

Verified Buyer

Love them

I even wear these on my winter bike rides to and from work - and it's delightful not having the glare of oncoming cars now, in addition to knowing that it helps my circadian rhythm and prepares me for a good night's sleep

Makes all the difference!

I was concerned that Block Blue Light's FITOVER Glasses would be uncomfortable over my regular prescription frames. They actually fit really well, and make all the difference in the evening - helping me prepare for a restful night's sleep.

I am yawning away by 9.30pm when I wear them after dinner to watch TV - and I find they often enhance the colour of whatever film I am watching!

Highly recommended

Jacqueline W.

Verified Buyer

I love this company!

These fitter glasses were bought, along with the red lenses, because I have severe sleep problems. I use these when it first gets dark, & then progress to the red lenses about an hour before bed. I have their red globe in a lamp in my bedroom, & read for a while before trying to sleep. I believe I am falling asleep quicker than before since using them. They are a better fit than my old, cheap amber fitivers bought years ago from a different company. Thank you for a great product.

JW

Wonderful blue light glasses

I wear the glasses for at least two hours while watching TV or using the internet on the phone. They have proved to be excellent, giving me better sleep. I am well pleased with them.

Perfect for the job.

These fit snugly over my reading glasses when using my computer - or other close-up 'jobs' like reading - in the evening... or for using without the reading-glasses when watching TV (where there's inevitably some colour distortion - bright blue skies look green-ish, but you soon get used to that).

Huge difference

Noticeable impact on sleep quality. Less mental fatigue.

Great glasses!

I love these sundown blue blocking glasses. I previously had the red ones, but found them too dark. These ones are great to wear when the sun goes down and until I go to bed. They make it easy to watch any screen, and I am much more relaxed before bed.
Reviews Loaded
Reviews Added